With more than 30 years as a professional artist, Marimer has collected knowledge in many different forms of plastic expression and puts them together in innovative combinations, being the result original and unusual pieces.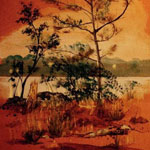 Born in Puerto Rico, Marimer graduated from the UPR School of Fine Arts in 1976.

   After her two children were born, she returned to the UPR Continued Education Division for several more art courses and later studied independently with local artists Andy Bueso, David Goitía, Rafael Rivera Ortíz, Nora Quintero and José A. Quiñones. 

   Offered the opportunity to "help" paint theatre drops at her daughter's Ballet Academy, she learned scenic painting and design and began  working by contract, which later led to a business in mural painting. 

    In 2005 she became  a founding member of an artist-owned corporation and the first Secretary of its Board of Directors.  The corporation , Fusión Isleña, P.T., runs an art gallery at the Centro de Bellas Artes in Caguas, PR.  It also presents themed exhibitions with guest artists, performances and student art contests. 

   She is currently working in various media, with techniques created by her, that combine materials through her knowledge of multiple artforms such as woodworking, basketry, batik, airbrush, etc.  Her low-relief wall sculptures are made of rope that she wraps in fabric dyed by herself to achieve the desired color gradations. A series of glass vases are the bases for conceptual pieces worked in wire and paper.  She is also painting landscapes and portraits in acrylics and pastels, and silk kimonos and shawls with protein reactant dyes.

   Her studio is located in Guaynabo, Puerto Rico.